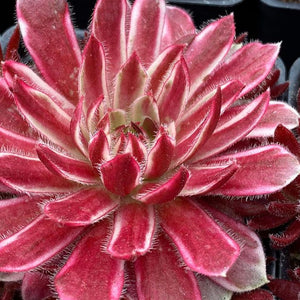 Carp Garden Centre - West Ottawa
Sempervivum Chick Charms 'Lotus Blossom'
Regular price
$12.72
$0.00
Unit price
per
BOTANNICAL NAME: Sempervivum Chick Charms 'Lotus Blossom' Lotus Blossom Hen & Chicks
SUN EXPOSURE: Full Sun
AVERAGE SIZE: 2-4" x 2-4"
COLD HARDINESS: USDA Zone 4
DESCRIPTION: A stunning variegated addition to the Chick Charms flock of Hen & Chicks!  The fire engine red leaves of Sempervivum 'Lotus Blossom' are each edged in white.  During the heat of summer, the rosettes take on more green.  Regardless of the base color, the white variegation makes this Hen & Chick a standout in the sunny rock garden or trough.  Sempervivum 'Lotus Blossom' is a much more robust grower than its problematic predecessor, Sempervivum 'Citrus Sunrise'.
 Available in 2.5" pots
---